Seriously, the last 6 months have been a whirlwind over here in the Evans house. Jack started first grade, I started a new teaching job, Bech's job changed a bunch, and Gil is just insane. Plus, we bought a house at the beginning of January, spent the rest of the month painting and redoing the floor, and moved in at the end of the month. The boys and I are recouping from the flu, and Bech may actually be coming down with it now.
So yeah, a lot going on. But I have, nonetheless, still been reading a ton. And I miss putting my books on here. It's such a good way for me to remember what I read and how I felt about each book. I stopped at June last year, so I have 6 months to go back and review. But I'll start with January for today!
The Woman In Cabin 10
Hmmm, I have mixed feelings about this book. The truth is, I'm just not a huge thriller fan. I don't love that genre. As far as thrillers go, this one was pretty good. It's about a woman who goes on a cruise as a travel writer. Some crazy stuff happens, and she thinks that a murder has been committed. But no one else believes her.
Again, not my fav, but if you like thrillers, you will like this one.
The Mark of the Plague
This is a middle grades book. It's actually the second in a series. I read the first one, The Blackthorn Key, last year, and I really enjoyed it. This book is no different. It takes place during the middle ages in London and follows an alchemist's apprentice during the time of the plague. If you have a middle school student who likes adventure books or puzzles, I think they would really enjoy this book (although start them with book 1).
The Alice Network
I really enjoyed this book! It tells two stories--one of a young American girl who goes to Europe after WW2 and the other of a British woman who is a spy during WW1. The women actually are together for a lot of the story, so the British woman's narrative is actually a flashback of sorts.
I love WW2 books, and I really love reading about women spies (e.g. The Nightingale and Code Name Verity). While this wasn't my favorite book of the month, it was up there!
Almost Sisters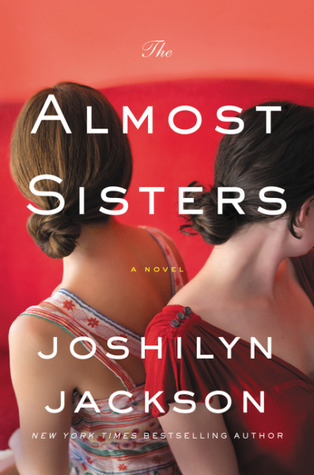 This one was my favorite book this month. I've just started getting into Joshilyn Jackson. This was my fourth book of hers to read. All of them have been great, but I liked this one the most.
Leia is a comic book illustrator and has just found out she's pregnant from a comic-con one night stand. At the same time, her step-sister is having marriage problems and her grandmother has dementia. So Leia takes her niece down to Birchville, Alabama. After a couple of days, her grandmother crashes a car with a trunk full of bones in the back. This story is funny but also really insightful. Jackson deals so gracefully with issues of race and family.
Anne Bogel is a huge Joshilyn Jackson fan, but I avoided her for a while because the books have cheesy covers. I know, shallow of me, right? Ignore the cheesy covers. This book was just wonderful!
The Things We Wish Were True
This one has been on my TBR ("To Be Read") list for a while, based on a recommendation. It tells the story of one Southern neighborhood and how an accident at the neighborhood pool ends up changing everyone's lives.
I liked this book. The plot was interesting, and I got into it. But it wrapped up a little too neatly at the end for me. I think this would have been a better summer read--(mostly) lighthearted with a happy ending.
To Dwell in Darkness
This is my third Deborah Crombie book to read. Crombie writes British mysteries (although she is from Texas, go figure...) mostly taking place in London. I need some mysteries to fill the voids in between Louise Penny and Alan Bradley books.
If you are a mystery fan, Crombie won't disappoint. Her books are not predictable at all, and I really do like Duncan Kincaid, her detective. I read the first book in the series first, but my second two were in the middle, so you definitely don't have to read the books in order. Anything they reference from past books, you can pick up from context clues.
My goal for this year is 75 books, so 6 in January is a good start (especially considering how busy it was!).