O N E
A little over a month ago, I won a Tula baby carrier in a raffle!
I have actually been interested in a Tula for a while. A good friend has one and she loves it. But I have an ergo (an older one but still in great condition) and couldn't really justify that amount.
But then I won...so a brand new Tula for $12!
I got to pick my pattern and I went with the
Shenandoah
.
Y'all, I am loving this carrier. I am still glad I have my ergo, because I think it's better with smaller babies. But this carrier is perfect for Gil. It feels better on my back and it's easier to put on by myself. I am officially a Tula fan!
T W O
We made it all the way through the winter without any major sickness and then Jack got sick this week. He just had a slight fever and was sort of mopey on Tuesday, so nothing big.
When Jack takes a nap during the day, you know he's not feeling well!
By Wednesday he was fine, but he hadn't been fever free for long enough, so we had another quiet day at home. He enjoyed playing out back in his (Christmas) pjs. Also, those pjs were a splurge and a bit more than I usually spend on pjs (which is not saying much because I'm a total cheapo). We have gotten every penny worth from them. Jack loves these pajamas SO much.
T H R E E
Bech was home yesterday so I used the extra help and got some sewing done!
I have had this fabric since last fall and finally made some throw pillows. I made two, but only had the insert on hand for one. But I've got a craft store coupon so I'll grab another one this weekend.
I want to add some more pillows to our couch to go with this fabric.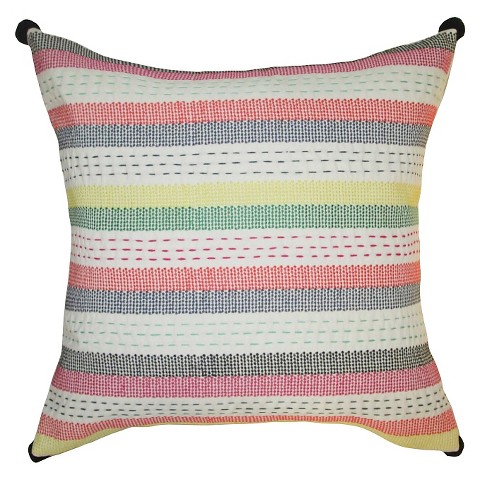 I just love the look of a gray couch (which we have) with lots of fun throw pillows in bright colors, like this:
F O U R
I also worked on some shorts for Gil. Gil has an absurd amount of smocked bubbles and jon jons for the summer. But Gil is SO messy when he's outside so I knew I needed some play clothes for the summer too. I wanted something cheap (so I wouldn't be too upset when he got them dirty) but still cute. I bought some fabric at the Cotton Patch in Bogue Chitto two years ago to make shorts for Jack and never got around to it. So I pulled the fabric out and picked up some cheap striped shirts at Target.
Here he is modeling one of his new pair of shorts. Also, that's the face he made when I told him I wanted to take a picture. He's a cheeseball!
F I V E
We have a busy and fun weekend planned. When the weather finally gets nice up here, life gets busy! It's like we've all been bears, hibernating through the winter, and now we are just so excited to be outside and with other people again!
This afternoon, I'm going over to a friends house for a mom "happy hour." We are drinking wine and cider and letting our kids run around their yard. Perfection!
Tomorrow we have swim lessons, Jack's best school friends' birthday party (oh fine, she's his girlfriend, at least that's what they say), and then Saturday night is a cookout at a friends.
On Sundays, we don't have church until 3 p.m. (the perks of being a church plant!), so I'm sure we will be at a park that morning!
Have a wonderful weekend!