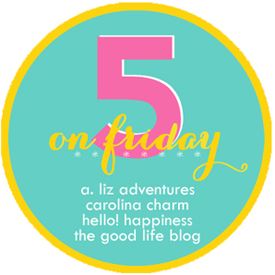 And again...my only post this week is 5 on Friday. I just love that I can sort of "blog dump" our week on Fridays!
We went to Philadelphia this past weekend. It was a sort of there and back again trip for us--Bech needed to get some work done in the studio and I had a baby shower to go to Saturday morning.
We headed out Thursday afternoon, went to a ceramics opening, spent the night and next day with some good friends of ours, another show Friday night (for one of Bech's fellow MFA classmates!), then back home by 11:30 that night.
It was fast paced, but fun--with a visit to Toys R Us (I bought some groupons for there and needed some Xmas presents for Jack) and Ikea (which included a full on melt down in the middle of the kids section).
My favorite souvenir from our short trip? Jack's first piece of pottery! Well, technically his second. Bech made him a little amphora/drinking cup before he was born. But it stays far away from his little toddler hands.
But Michael, the friend we stayed with, gave Jack a beautiful Jack-sized mug. And he LOVES it. I let him use it (with close supervision)...like daddy, like son!
It's getting cold here! Two mornings this past week we have had snow!
The weather has gotten warm again this weekend (mid 50's), but then will dip into the the 40's again after that. I know it won't be long until we have LOTS of snow.
I am not as obsessed with snow as I used to be--I know it will be really cold and I will get sick of it by the end of winter. But I think it will be really fun to see snow through Jack's eyes. He was so excited about this little bit of snow this week!
I have talked before about how much we are loving our new friends here in Pennsylvania. One of our church friends lives just a couple of minutes away, in the same small town as us. They have two little boys, one Jack's age and the other 1 1/2 years older. The boys all play great together...lots of running, yelling, and FUN!
Jack and I invited the boys over for a play date yesterday to decorate cookies. The two little boys did more eating than decorating, but I think they all had lots of fun.
We are home this weekend! Yay!
Seriously, we have been traveling sooo much this fall. And I have loved it all, but I also love lazy weekends at home. We have plans to hang out with another couple at some point, but nothing else.
Which means I plan to drink lots of hot cocoa and spend lots of time in my pj's.
Just being honest...
My sister got Bech and I into Revenge. Have y'all seen this show? We love it!
We are still only on season 1, but I have to say, Nolan is my favorite character.
Bech and I don't usually agree on tv shows. He's a Breaking Bad fan, I like America's Next Top Model. So we are always happy to find a show we both like!
I hope y'all have a wonderful weekend!