Edit...I didn't finish this post yesterday. But I am not going to let my hard work on the first three items go to waste. So here it is. Just pretend like I finished it on Friday, okay?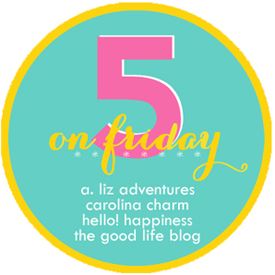 Ah, 5 on Friday, my favorite kind of post, in which I just get to post a random list. I'm not sure that's the objective of this link up, but it works for me!
I don't know why, but all I could think about yesterday was deviled eggs and how much I wanted to eat them. I mean, deviled eggs are great and everything, but I don't normally just crave them. But yesterday, I did.
I found
this recipe
on pinterest and actually it to a newsletter I was writing at work. I realized that I had all of the ingredients at home, and I couldn't very well share a recipe I had never actually tried, now could I? So last night I whipped up a half recipe.
Oh, y'all,
SO GOOD!
The cream cheese makes for the perfect texture. I used sour cream instead of mayo (because I am not a huge mayo fan). I ate almost half of these last night (it was a half batch, remember!) and brought the rest to work today to share. I have a couple of spring events coming up that I plan on making these for.
I have an event tonight at work, so I was able to come in 2 hours later. And Bech, who has been getting up early all week and coming home late, stayed in with Jack and I, too. It was so needed!
We heated up leftover waffles from a previous dinner, cooked eggs and bacon, and curled up on the couch with coffee and milk. We put "Come O Spirit" on while we were cooking. It was medicine for our souls, a little bit of
sanity
after a tough week.
Also, you should get
this cd
. Especially if you, like us, need a little sanity this week.
It's
warm
here!
Okay, so not warm like the South. But in the the 40's and 50's. As I told my mom yesterday, I was wearing flats, with no socks! For someone who has been in boots (and mostly snow boots!) for the past 3 months, that was big news!
F O U R
Did anyone hit up the huge sale at the Kelly's Kids' fall outlet the other day? They had
EVERYthing
on sale for $9.99! I got on quickly and picked up these three longalls:
I mean, seriously, how cute? And for $30! I got all three in 4T, because my child is a giant. But, after looking at his closet, we are officially set for church and dressy casual next winter. Which is good, because new babies don't allow for much shopping time!
My sweet husband took Jack in to the school this (Saturday now) morning to play while he unloaded a kiln. Jack adores going to Bech's studio and is actually (usually) pretty good there. So did some laundry and curled up in bed with some Netflix before taking a short cat nap.
Ah...
perfection
. It's all about what gives us a little sanity.
I hope everyone is having a wonderful weekend!