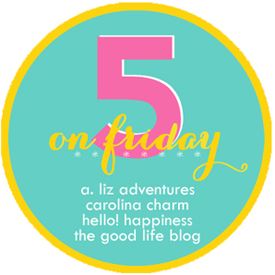 5 on Friday Time!
We leave for New York in 2 days!
Bech's little brother is graduating from the
CIA
(as a chef, not a spy) next week. Bech's parents rented an apartment in Brooklyn, so we are going to spend the week together (and head over to Hyde Park on Thursday for the graduation).
We are also taking the megabus to NYC...which may end up being a completely dumb decision. It was the same price as the train, and we would have had to drive at least 45 minutes to the nearest train station. Usually Jack is a champion traveler, so we shall see!
Bech is back! YAY!!!
Bech got back about dinner time on Wednesday. Jack and I are both so happy to have him home! This morning, Jack just kept telling Bech, "Daddy, I missed you so much!"
Which is great, because Wednesday morning he said, "Daddy coming home today. Mommy, you 'member Daddy?"
Since Bech was gone for Mother's Day, he helped me pick out my Mother's Day present today.
Aren't
they
cute? I know I was in love with the Jonathan Adler ones, but these seemed just a little bit more wearable.
The best part, I got some major deals:
-- Toms has free shipping for orders over $25 (I think that is still going on for at least another month of so).
-- If you use the code SUMMER15, you get $5 off of your order.
-- I went in through ebates and get 15% cash back on my order.
***sidenote, if you are not using ebates, you are crazy! You make an account (here's the
link
), look for stores through their site first, and earn cash back. I never earn that much, because I don't buy a ton online. But every six months, I get a check for at least $10. Obviously, if you shop a lot online, you would make more. ***
You will get $20 off and I will get a $20 credit...win win!
In two weeks, Jack and I will be in the SOUTH! AHHHH! Seriously, we are both so excited.
I can't wait to sit in the rocking chairs on the front porch in Brookhaven, smell all of the late spring/early summer Mississippi flowers, eat lots of yummy southern food, see friends and family, and just relax. I really do love some things about the north, but there is something about summers in Mississippi...
I have no five :(
I am straight out of ideas. I think my brain is still toast after 9 days of single parenting!
Have a wonderful weekend!