I did this a few weeks ago and had fun, so I thought I would like up again!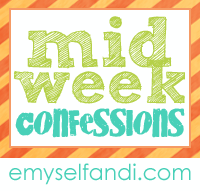 - I have SO much work I could/should be doing (working on a paper, getting ready for my french test Saturday), but instead I am making sure I am caught up on "Downton Abbey." Which I am, and it is seriously one of my favorite shows ever!\
- Last night, Bech and I got in bed at 9! Ridiculous! We watched a couple of episodes of "Parks and Recreation" (we just found out about this show and we both like it--it is hard to find a show we both agree on!), so we didn't go to bed until 10:30...that makes it a little better, right?
- I washed Jack's diapers yesterday and realized I was missing one. I had a sneaking suspicion that was confirmed as soon as I looked in his diaper bag. Yup, diaper from Friday night in the wet bag...GROSS.
- Everyone in Vermont is so sad because there is barely any snow this winter. Me? I am so happy about it! The snow is beautiful, but cold!
Okay, better go work on everything I SHOULD be doing!