Another 5 on Friday!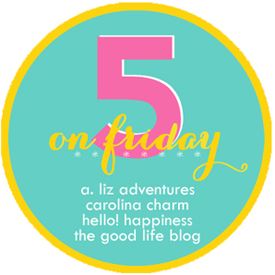 Y'all, it was 70 degrees yesterday. Seriously,
70 degrees
. Now granted, it is going to be 48 degrees next Tuesday, but I can handle this. Thank goodness for
Spring
!
When I think about or am asked how I have managed 3 real winters, I always remember these days, when the snow is all gone and it is finally spring. Don't get me wrong, I adore spring and summer in the South. I really do...even when it is 100 degrees in the shade. But when you have made it through a northern winter, spring and summer are so much more precious and glorious. You feel as though you have really earned it!
If you read my blog while Jack was a baby, you know that I am a big fan of "Babywise." We sleep trained the heck out of Jack, and he was an
AMAZING
sleeper. He was sleeping through the night with a dream feed at around 3 1/2 months, and we dropped the dream feed at 5 months. Up until he was 2 years old, we would, for the most part, put him in his crib and he would fall asleep on his own, only waking up in the middle of the night if he was sick.
Then he turned two and we switched to a big boy bed, partly because I wanted his new room at the new house to be more exciting to him and mostly because he had started to climb out of his crib.
Bedtime in the fall was not great. It took him a while to fall asleep and he would come out of the room several times before that happened. You could always tell if it had been a bad night by the amount of toys that had been taken away from him and stacked on the dining room table.
Over Christmas in Mississippi, when we didn't have a separate room for him to sleep in, we got in the habit of just laying down with him until he fell asleep. And we have been stuck in that habit since then. Which is crazy...I felt like I needed to re-sleep train my almost 3 year old!
But a couple of nights ago, Bech broke the habit! Seriously, he is brilliant. He does so many things that amaze me, but this takes the cake. Last night, I tucked Jack in, prayed with him, and left the room...
HALLELUJAH
!
Also, let's hope I'm not speaking too soon. But it has been 3 nights in a row!
Speaking of my brilliant husband...
He's turning 30 on MONDAY!
Also, I've always loved this photo. Bech, a "man of hands."
My latest pregnancy (or just regular) obsession:
I've liked Polar water for a while now, but I found the Blueberry flavor a couple of weeks ago. I am not sure, but I think it might be new. Um,
SO good
. I have seriously tried almost every Polar flavor, and this is, hands down, the best.
I need a new planner. And I don't want to spend a ton on it. So, yeah, no Erin Condren. It doesn't need to be super detailed, but it does
need
to be
cute
(that's a need, right?).
Any thoughts?
Have a wonderful weekend!