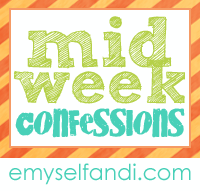 - So I'm doing WeightWatchers right now (which I love, but that's a side note). Last night we had a "S'mores" event for graduate housing. I didn't eat dinner so that I could eat s'mores. Pretty sure that's not a good dieting technique...
- But if I loose ten pounds by Saturday (10 lbs in 1 month!), Bech will shave off his beard. And, sadly, that is a better motivator than smaller sizes in clothes...
- My house is disgusting. Like seriously, it's the messiest it's ever been. I have pulled out boxes and clothes (to start the packing process), and it's ridiculous.
- Which brings up another strange quirk of mine. I love to pack. And I love to pack way before it's necessary. I used to pull out my camp trunk at least a month before I left.
- I know this isn't Bech's midweek confession time, but I'm going to confess for him. He hates to pack and puts it off til the last minute possible. The last two times we have moved, he has not packed his stuff until the last day--which obviously stresses me out to no end. But we will NOT be doing that this time around!
- I didn't take Easter pictures of Jack. I know...it's his first Easter! But it was cold out that day (I do live in Vermont). So maybe next week or the next, I am going to stage pictures. Is that wrong?
- I also didn't give him anything for Easter. He's too little to know. I figured if I got something, it would really just be about me. Next year, I promise I will give him something and I will actually take pictures on Easter. I will redeem myself!
Ya'll should link up, too!